Acumatica back office
Acumatica is the leader in modern cloud-enabled business systems. Powering sales, purchasing, inventory management, and financials while leveraging web and mobile technology to optimize processes and personalize intelligence like no other. Acumatica's non-traditional approach even extends to the way it is paid for–there are no "user-license" fees.
Benefits of Acumatica.
Availability: Access business data from any device
Productivity: Modern tools provide efficiency & insight
Adaptability: Add capabilities as needed to meet changing needs
Intelligent: Accurate data collection, analyses & forecasting
Streamline: Control workflows & maximize resources
Master Inventory: Track all inventory throughout your operations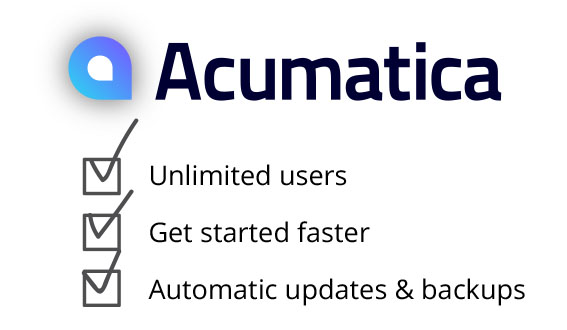 Acumatica Value:
Less limited: Available to staff, customers, and partners, as defined by you.
Faster to get up and running & for all to learn.
Live: Most current functionality is always available, and backups are automatic.
How Acumatica is unique
Built for the cloud from the ground up, Acumatica takes advantage of the best of current web technologies. Powerful functionality that connects with other technology and services that are available on any device–without any client software to install. And even though it is cloud based, it can be deployed in various ways–as a SaaS, hosted, or on-premise. Acumatica offers a new, smart combination of powerful connectivity, flexibility, and ease-of-use. Their customer-friendly policies, such as "no user licensing fees", are also a fresh departure from the norm.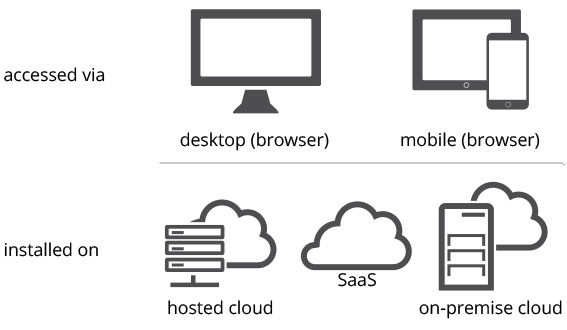 How Acumatica can be deployed
Acumatica is accessed via a web browser, but can be can be implemented as an SaaS solution, a hosted solution (via many secure cloud hosts) or on-premise solution (hosted, but from your own server). Licensing options are a plus as well–you can choose monthly payment or a perpetual license model–based on your needs and preferences.
Customer Success: Power Distributing
xkzero Mobile Commerce (XMC) has enabled Power Distributing to grow sales significantly–without having to add new personnel to manage the warehouse or customer service. Through every completed route, their faster & more accurate truck loading, more efficient delivery, and intelligence gathering all add to the advantage they enjoy in their industry.
Industries
Acumatica powered by xkzero is a great fit for industries like Food & Beverage, Wine and Spirits, and Bakeries as well as Oil & Gas, Industrial Supply, Hard Goods and any wholesale distribution operation with a fleet of vehicles. Our ability to add functionality quickly as your company adapts to change means that you can pivot your business when needed–faster than ever before.
About xkzero mobile applications
xkzero provides smart mobile technology that not only optimizes business processes, but creates a solid foundation upon which you can grow your business. By putting system touch points where your processes happen, your system will provide you with the most real-time, consistent and reliable information that your business can have.  Reliable information lets you make better decisions–every day.

The centerpiece of our mobile technology is xkzero Mobile Commerce, a Route Sales and Direct Store Delivery (DSD) solution that connects drivers and delivery representatives to their ERP system, managing truck loading, route planning, compliance reporting, intelligence gathering and so much more.
Need more information?
Contact us
Let's get started.
Discover how Acumatica and xkzero can take your business to a higher level.