Sage 100 now can securely process remote credit card payments through a mobile application for iOS.  The solution provides a way to streamline the sales process and provide better customer services to any company that uses Sage 100 and has remote–or field-based, showroom, or trade-show-based sales reps.
The mobile Sage 100 Credit Card payment solution is delivered through the mobile sales app iSales 100 from xkzero, and leverages APS Payments' secure payment processing integration for Sage 100.
"We are looking forward to the additional flexibility that APS Payments will provide to mobile sales people," said Paul Ziliak, co-founder of xkzero. "We see a great surge in mobile transactions and view the ability to process credit or debit cards remotely as a new requirement for businesses in any industry."
The reach of APS Payments' integrations continues to grow. "This announcement marks the latest payments integration for Sage 100 clients, providing additional payment options for clients to choose from," said Patty Benitez, Senior Vice President of Channel Sales at APS Payments. "We look forward to building businesses' confidence in secure mobile payment processing. It's a growing trend that we are proud to support."
About the solution
xkzero's iSales 100 app, integrated with APS Payments, allows users to take payments and create pre-authorizations for new transactions taken in the field. Transaction types that allow for APS credit card payments include new Sales Orders and Invoices. This functionality is particularly beneficial for field-based sales reps whose work is performed outside of the office.
The iSales 100 sales app is managed directly in Sage 100, meaning that no new software interface to learn for setting up remote users and permissions. The solution was built to allow the user to select from cards on file, or to add new cards in the field.
APS Payments safely stores credit card numbers in their APSPAYS Vault and are not stored locally in the app.
Benefits of using APS Payments with iSales 100 by xkzero include:
Optimized salesperson user experience
Eliminating phone calls back to the office to record payments and transactions
Reduction of errors
Accelerating payments
Ensuring faster delivery to customers
Optionally print or email a transaction receipt for the customer directly from the field
APS Payments features include:
Tokenized credit card data simplifies PCI Compliance
Daily, automatic batch reporting
Level 3 Processing
Multi-currency capable
No installation, maintenance, or setup fees
24/7 live support
iSales 100 by xkzero features include:
Free trial downloadable from the Apple App Store
Monthly subscription with no contract minimum commitment
Implement and start using in hours, not weeks or months
All managed fully with Sage 100
Create perfect user experience through easy to use filtering of Customers, Items, transaction rules
Offline creation of Quotes, Orders, Invoices, Credits
Follows all Sage 100 pricing and promotion rules
Supports credit limits, customer holds, item selling restrictions, lot/serial number control
Barcode scanning; including options for Bluetooth and Camera; regular and Alias Items
Mobile receipt printing and emailing
Download the iSales Mobile Payments by APS Datasheet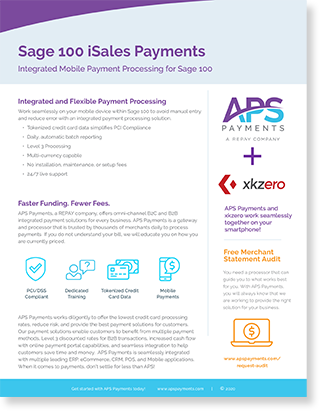 APS Payments with iSales 100 by xkzero help save you time creating invoices and processing credit cards. Get paid faster, increase cash flow, reduce credit card processing fees, and exceed customer expectations!
About APS Payments
APS Payments, a REPAY company, offers omni-channel B2B integrated payment solutions for Sage 100 users. APS Payments is a gateway and processor that is trusted by thousands of merchants daily to process payments and works diligently to offer the lowest credit card processing rates, reduce risk, and provide the best payment solutions for customers.
Ready to go mobile with payments for Sage 100? Contact us today to get started!