Many businesses are uncertain about the continued support and end of life plan for Sage 500 ERP.
Support for Sage 500 versions
As of August 2021, Sage is currently supporting versions of Sage 500 as shown in the graphic below. The general rule has been that Sage would support the most recent three versions of the product. Beyond that, online support for older versions is available through their support knowledgebase.
Check this space for updates–we will post any new information as it becomes available.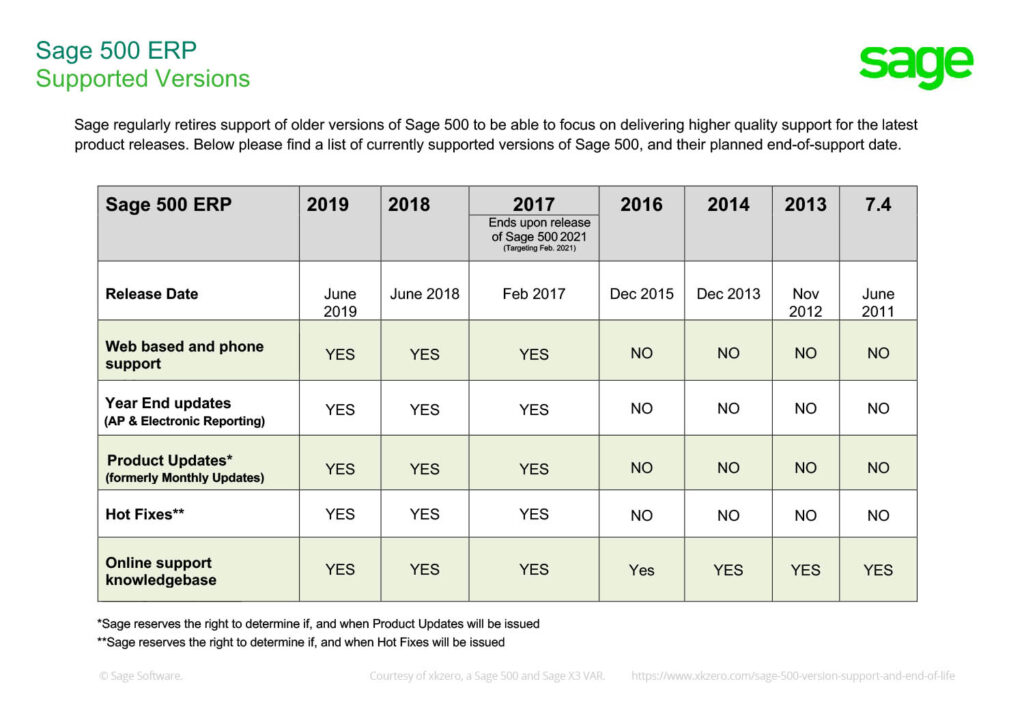 End of life for Sage 500
Sage 500 was built using Microsoft VB6 (Visual Basic 6.0). When Microsoft's support for VB6 came into question, Sage announced an end of life plan. Since then, Microsoft announced that they will continue support for VB6 for 5 years after any announcement of VB6's end of life plans. They have not yet made any such announcement about VB6.
With that said, Sage has extended its support for Sage 500 for another five years.
xkzero and Sage 500 support
We are committed to our existing Sage 500 clients' ongoing needs and successes. In fact, many of our Sage 500 clients use custom solutions that we've developed. Others have had success with third party add-ons to extend the value of their ERP.
xkzero's enterprise expertise doesn't end at Sage 500. We've received awards by Sage X3 and Acumatica clients for the impact we've had and the value we've created.
Whichever ERP our clients decide on, we commit to solving their needs the right way–the first time around.
Recommendations for companies looking for a new ERP
Searching for an ERP can seem to be a daunting experience. It doesn't have to be that bad. Here are a few guidelines to follow that can help you through your journey.
1. Start early.
Start your ERP research a couple years before you plan to switch ERP systems. It may seem like a lot of time, but it gives your research, prework, planning, & execution the time to succeed. While your company may not need all this time, starting early will help ensure success.
2. Document all your current needs.
Every company has unique needs and all your needs/objectives should be documented. This will help you make an apples to apples comparison of ERP systems. Things to document include:
Key processes
Critical inputs & outputs
Vendor & customer access or integration needs
Web access and remote work needs (see modern ERP)
EVERYTHING.
3. Document all your future needs.
See #2, but look to the future. Outlining these will help map out any features you'll need to "future-proof" your new ERP.
4. Get everyone on board.
After documenting all needs, have them approved by all key executives and managers. You may find that some requirements or needs are changing, omitted or added.
5. Start your evaluation of ERPs / VAR partners
After gathering all your needs and having them verified by your team, you can start to compare ERP systems. Some systems are masters of certain processes. Some are flexible "jack of all trades" types-where you add/install only the features you need.
A Value Added Reseller (VAR) partner typically sells more than one ERP system. They should have a team of experts for each system they sell. This will help ensure a smooth implementation and help your team get rolling to speed up your ROI. A good VAR should determine the best option(s) with you, not for you. They should ask thoughtful questions about all your needs including any unique processes as well as your future needs. Remember–your best option may be something that a particular VAR might not offer.
What is a modern ERP?
Efficiency demands and remote workforces are driving new demands for ERP. A few modern features that are important to consider include:
Flexibility: Mobile and Desktop access, customizable interface
Functionality: Complete system that needs fewer add-ons
Usability: Outstanding user experience
We have done extensive research looking to find the most future-proof modern ERP options for clients like ours.
Our expertise is in helping manufacturing and distribution companies of a certain size, with specific needs. Meaning, we may not be a perfect VAR fit for every company. But the companies that we fit with benefit greatly.
To find out if our expertise and "future ERP" findings fit with your business needs, contact us at info@xkzero.com.