For B2B manufacturers and wholesalers there are several reasons for obtaining proof of delivery.
Consumer Pressure (aka Amazon)
Obtaining proof of delivery is something you naturally expect when using FedEx or UPS, but it's still not a given for mid-sized B2B wholesalers and manufacturers. Increasingly however, B2B companies who do their own delivery are feeling the pressure to match the consumer experience offered by the likes of Amazon.
Real Dollar Benefits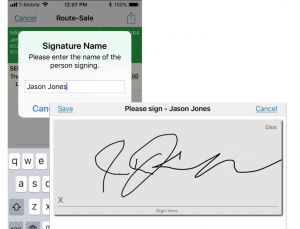 Besides creating a better customer experience, there is measurable value from investing in delivery software. Here are some of the benefits you should expect
Eliminate payment disputes

Get paid faster

Reduce future returns

Greatly reduce administrative time, effort and payroll

Improved accuracy

Better inventory control
What to Look for in Delivery Software
How do you know if now is the time for automating proof of delivery in your business? You may be experiencing payment disputes, product returns, or perhaps customer service is constantly fielding calls about the status of deliveries. If so, it's time to start doing some evaluation.
When choosing delivery automation software for your business, here are some of things to look for:
Multiple forms of proof – obtaining electronic signature, the name of the person, date and time stamp, geo-coding – and bonus if you can get photo proof!

Route planning and dispatch – the software should help you plan, assign, optimize and track your daily route activity

ERP integration – check to make sure your delivery software supports your accounting/ERP system. If it doesn't, you will be stuck with silos of information

Reputable provider – make sure the software publisher has a track record for providing reliable software and support – and bonus if they know your ERP too.
Contact us if you would like to talk about solving ERP based Proof of Delivery problems.
Want to learn more? Watch a recorded webinar on how xkzero Mobile Commerce can help conquer Proof of Delivery for manufacturers and distributors who deliver to their B2B customers.